In order to build high quality human resource capacity in Ghana and the West African sub-region to address the developmental challenges highlighted in the Africa Water Vision 2025 and Sustainable Development Goals, Kwame Nkrumah University of Science and Technology (KNUST) has launched the Regional Centre of Excellence for Water and Environmental Sanitation Centre, Kumasi (RWESCK). The centre is being hosted by the Department of Civil Engineering.
The establishment of the centre was made possible by a Government of Ghana loan facility from the World Bank under the African Centres of Excellence (ACE) programme. As part of the launch, there was a two-day stakeholders' consultative workshop on research and training on 15th and16th March 2016.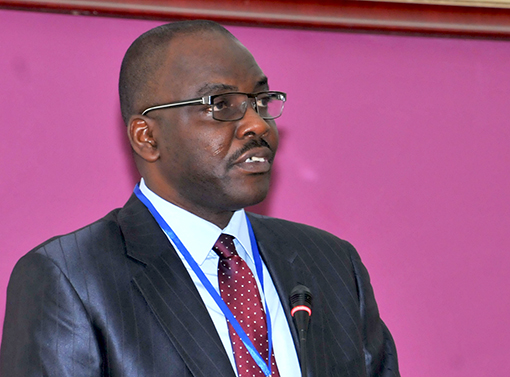 Speaking at the launch, Professor William Otoo Ellis, Vice-Chancellor stated that KNUST as always welcomed partnerships and exchanges to solve developmental challenges especially in the area of sanitation, water supply, climate change among others.  The establishment of the centre, therefore, was in the right direction. In launching the centre he urged all staff to work hard to ensure the successful implementation of all plans and projects of the centre. He also called for the institutionalization of the centre.
Prof. Ellis said that quality human resource in Ghana and the sub-region would go a long way to meet the Water Agenda 2020. He noted that KNUST had been involved in several partnerships and programmes to boost water and sanitation. These include the West African Science Service Centre on Climate Change and Adapted Land Use (WASCAL), the Scientists Networked for the Outcome of Water and Sanitation (SNOWS), UNESCO-IHE, among others. It was his hope that experts would help to sustain the centre and its operations.
Professor Samuel Nii Odai, Centre Leader, giving a background of the project said that the need to build national and regional capacities on water supply and environmental sanitation was based on a preliminary survey and analysis of capacity impact, which was found to be unsatisfactory. This led to an application to the Dutch Government under the SAIL project between 1995 and 1996.
The survey identified challenges in West Africa as inadequate toilet facilities and low coverage of potable water supply in rural communities, low human resource capacities in the water supply and environmental sanitation sector and limited opportunities for post graduate research, training and academic work.
Prof. Odai said the danger was that the sub-region risked poor environmental conditions leading to disease and high mortality rates, hence the need for a comprehensive intervention programmes to solve the problems.
He further explained that in 2009, KNUST became one of African Union's centres of excellence for water and environment sanitation. By 2014, under the RWESCK initiative, 99 Masters and 15 PhD students had been trained. Since 2015, 20 PhD students have been enrolled comprising 6 females, 14 males and two regional students.
He noted that the workshop was a brainstorming of national and regional experts and stakeholders to develop possible training needs and research for Agenda 2020. Also stakeholders would identify needed groups and define challenges facing the region, recommend research duration to meet needs, capacity building and continuous professional development for sector performance.
Stakeholders would also propose internship placements for students to give them more hands-on training experience and academic/industry partnerships. Professor Nii Odai also hoped that a committee would be set up to advise on meetings. The Centre would also offer short courses in executing its business.
There was a ceremonial signing of partnerships between RWESCK and the National Water Resources Institute of Nigeria, University of Benin, Nigeria, Universite Cheikh Anta Diop, Senegal and the Ministry of Education, Gambia.