Prof. Ebenezer Mensah, Head of Department
Agricultural Engineering is the application of engineering and biological principles to develop technologies and solutions to problems in agriculture to remove drudgery, and to increase productivity and efficiency of farmers. The Department of Agricultural Engineering is currently organised into four sections including Agricultural Machinery Engineering, Soil and Water Engineering, Food and Postharvest Engineering and Agro- Environmental Engineering.
The Department has the following Research Groupings
Agricultural Machinery Engineering Research Group
Agricultural Engineers working in this group apply mechanical engineering principles in the design, fabrication and operation of all types of agricultural machinery during research. At the farm operational level, it employs the use of agricultural machinery for the full spectrum of land preparation, seeding, fertilizer application, spraying of agrochemicals for soil and crop protection and harvesting, thus reducing the drudgery in agricultural work.
Agro-environmental Engineering Research Group
The Agro-environmental Engineering involves the use of engineering principles to deal with biological materials in the management of the agro-environment. Topical issues as bioenergy and agricultural waste management have become important. The use of thermodynamic principles in the control of plant and animal environments have become a preoccupation in agricultural systems where the issues of the appropriate design of farm structures to provide suitable environmental conditions for the storage of agricultural materials are considered.
Food and Postharvest Engineering Research Group
Food and Postharvest Engineering involves applying engineering principles to handling crop, livestock and fish products, which are essentially biological materials. It is quite clear that the traditional agricultural engineering, which dealt largely with agricultural machinery, has expanded to handle biological materials. The post-harvest handling of crops, including processing and preservation processes are mechanised, with the primary objective of extending the shelf life and reducing post-harvest losses of agricultural materials.
Soil and Water Engineering Research Group
Soil and Water Engineering involves the application of engineering principles to soil and water management in agriculture resulted in drawing subject matter from civil engineering to apply to issues of irrigation, agricultural land drainage and reclamation and soil conservation. This is known as Soil and Water Engineering.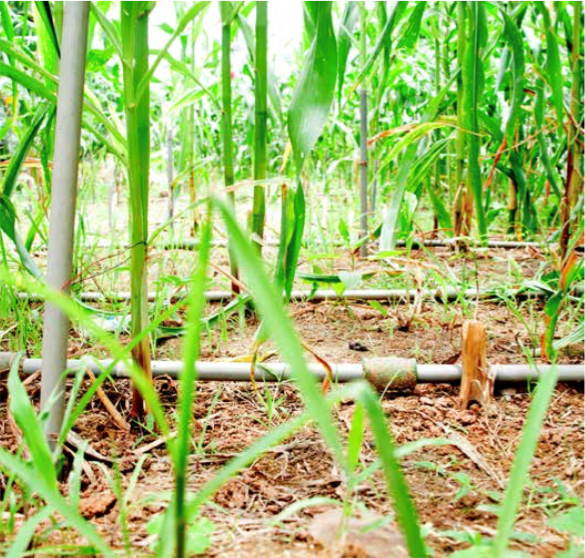 The following are Research Projects completed by staff in the Department.
Types and Seasonal Diversity of Helminth Eggs in Wastewater used for Peri-Urban Vegetable Crop Production in the Tamale Metropolis, Ghana
Comparative Study of Composted and Uncomposted Digestates, Chicken Manure and Cow Dung as Fertilizers and their Effects on Soil Properties
Health Risk of Agrochemicals Usage in Tomato (Lycopersicumesculentum) Production in the Offinso-North District of Ghana
Water Application Rate Effect on Growth Performance of Hybrid Cocoa Seedlings in the Semi-deciduous Forest Zone of Ghana
Assessment and Projection of Waste Vegetable Oils from Hotels for Biodiesel Feedstock and CO2 Savings in Ghana
Engine Performance Evaluation Using Biodiesel Blends from Waste Palm Kernel Oil, Mixed WVOs and Diesel Fuel
Modelling Groundwater Flow of the Besease Inland Valley Bottom in Ghana
Quantification of Groundwater Recharge in the River Oda Catchment Using the Water-table Fluctuation Method
Assessing the Impact of Long-term Hevea Brasiliensis (Para Rubber) Plantation on Soil dry Bulk Density and Porosity in a Semi-Deciduous Forest Environment in Ghana
E-Waste Disposal Effects on the Aquatic Environment, Accra, Ghana
Musculoskeletal Disorders Associated with cocoa warehouse tasks in Ghana: Preliminary results from a pilot study
Variation of ultrasonic frequency and time as pretreatments to air drying of carrot
Performance investigation of a chimney-dependent solar crop dryer for different inlet areas with a fixed outlet area
Some moisture dependent compressive properties of Shea
Challenges to efficient and effective irrigation water management in Ghana – the case of Bontanga Irrigation Project
Groundwater potential for dry season irrigation in North eastern Ghana
Compressive properties of cocoa beans considering the effect of moisture content
Particle size evaluation of feed ingredient produced in the Kumasi Metropolis, Ghana 




Influence of storage duration of jatrophacurcas seed on oil yield and free fatty acid content
Some moisture dependent compressive properties of shea kernel (vitellariaparadoxa L
Physico-chemical characteristics and market potential of sawdust charcoal briquette
Influence of drying temperature and storage duration on fissuring and milling quality of jasmine 85 rice variety
Modification of a large-scale palm fruit cage for local manufacture
Modification of a large-scale palm fruit stripper for local manufacture
Aflatoxin contamination of maize from different storage locations in Ghana
Biofuels production in Ghana: opportunities and challenges
Drying temperature effect on fissure formation and milling quality of Jasmine 85 rice variety
Assessment of biomass residue availability and bioenergy yields in Ghan
Electrification planning using Network Planner tool: The case of Ghana
Energy Access Indicators and Trends in Ghana
Assessment of Feedstock Options for Biofuels Production in Ghana
Activities of scavengers and itinerant buyers in Greater Accra, Ghana