Chemical Engineering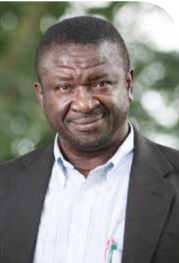 Chemical engineering is the detail study of systems involved in the transformation of materials and energy from one form to another. It has developed from its initial base around the reaction and processing of liquids and gases from to that of biological materials and solid-like materials of all kinds. Chemical engineers provide and improve chemical processes and devices which are environmentally sound. We offer a friendly, educationally stimulating environment and beyond technical knowledge, our programme enphasises critical thinking, resourcefulness, problem solving and team work.
The following are the Research Groupings in the Department
1. Waste Research Group
2. Biofuels/ Biomedical Engineering Research Group
3. Process synthesis and design Research Group
4. Reaction engineering and catalysis Research Group
5. Separation processes Research Group
6. Flow assurance Research Group
7. Drilling and drilling fluids Research Group
8. Reservoir simulation and enhanced oil recovery
9. Reservoir characteristics, management and economics
10. Naturalgas/Non-conventionalEnergy.
The department is involved in a number of Grant funded research projects initiated by Dr. Moses Mensah.
These include; 
DANIDA research project on production of second generation biofuels from lignocellulosic materials. The project sum is 2 Million US dollars dedicated for 6 PhDs and 8 MScs of which 4 and 6 respectively are Ghanaian beneficiaries. The Project Leader is Dr. Moses Mensah 

Biobased electricity production and nutrient circulation from wastewater using Microbial Fuel Cells (MFC). This project is funded by DANIDA Fellowship Center with a project sum of USD$ 500,000.

Optimization of pilot plant (batch and continuous) for the production of activated carbon from palm kennel shells

Optimisation of pilot plant for the production of biochar from agricultural residue.

Preliminary studies on design and construction of biofilters for waste gases

Pilot project on integrated waste management for the College of Engineering in collaboration with GIZ (NRW) - Germany.

Integrated waste management with recycling and composting in the Busunu township in collaboration with GIZ (NRW)- Germany

Pilot plant for the production of biodiesel on KNUST campus.

Feasibility studies for landfill gas recovery and use systems in Ghana. It is a collaborative research project between UT Arlington geoenvironmental faculty members and Dr. Benjamin Afotey. The project is funded by the United States EPA with a total sum of USD$ 18, 535.
Other Research projects initiated by staff in the Department include;
Chemical activation of used activated carbon
Colour removal of fluorescein dye from engine coolant liquid
Design of a plant to produce stoneware from local raw materials

Plant design to produce MnO2 and MnO4 from MnCO3 ore.
Characterisation of iron ore deposit in the western Nimba range in Liberia
Refining of used auto lubricating oils using local bleaching earths
Design , build and study the characteristics of a continuous action clarifier of specified study
Plant design for the production of Vinyl Acetate from casting-head gas stock of any of the Ghanaian oilfields
Plant design for the production of Potassium Bicarbonate from local resources
Biochar production from coconut husk and cocoa pod husk and comparing with other feed stocks
Feasibility studies to support Landfill gas recovery and use systems in Ghana.
Plant design for the production of acetylene from petroleum feedstock
Plant design for the production of acetylene from Calcium carbide
Plant design for the production of NaOH 
Assessment of local materials for the development of ultra- filter medium for drinking water
Development of membrane for the electrolysis of brine from local materials (continuation)
Optimisation of heat transfer in palm kernel shell-fired boiler, case study at an oil mill
Process development for the production of reflexive paint (road markings)
Removal of phenols from wastewaters by peroxidase enzyme extracted form locally grown beans (continuation)
Plant design for the production of ethylene from hydrocarbon fractions
Plant design for the production of ethylene from natural gas
Plant design for the production of wine from local fruits
Production of gluco-amylase from isolated Aspergillus Sp. Grown on local substrate for the hydrolysis of polysaccharides.
Development of bio-detergent for the abattoir industry
Process development for recycling waste vehicle tyres for other applications
Process development for the extraction of plant nutrients for the fertilizer industry
Modeling kinetics of acetic anhydride reaction in a diabatic environment using temperature as a measured variable
Estimating thermodynamics and equilibrium information of etherification process using temperature as a measured variable
Experimental simulation of 3-dimensional attainable region for the synthesis of ethyl acetate process
Plant design for the production of calcium carbide, carbon dioxide, and caustic soda from limestone
Plant design for the production of glycerine and fatty acid form beef tallow
The dimerisation of propylene to 2-methyl-1-pentene 
Mitigating the impact of non-isoprene constituents of latex on product degradation and process emission
Optimisation of industrial energy efficiency: case study of APM, Coca cola, fares timbers and golden Web Ltd.
Simulation of process system using radiotracer/electrical resistance tomography technologies
Quantitative analysis and Characterisation of the impact of fuel quality and combustion technology and ambient air
The confluence of micro reactor technology and computational fluid dynamics in process system design for control
Optimal operations demand analysis of a vegetable oil mill using resource tracking technique
Effect of mechanical extraction on thermal kinetics and storage ageing of processed dry rubber
The role of fermentation of the organoleptic(SLO/recaptans) and physiochemical characteristics of the natural rubber during processing
Analysis of fuel quality and temperature compensation of ex-pump delivery systems in Ghana
Designing of a database management system for process monitoring application in an oil mill
The "GREEN" production a rubber processing plant model
The oil and gas industry: Ghana's competitive strategy in terms of technology
Product Engineering of blended refined edible indigenous vegetable oil
Efficient pathway for the improvement of plasticity retention index (PRI) of partially dried rubber
Effect of coagulation regimes on natural rubber quality
Bioremediation of Petroleum-Products from contaminated Sites (Continuation)
Construction of Solar Reactor for Adinkra Ink Production
Extraction of active ingredients from Badie
Local production of Tiles Adhesive
Plant design for the production of Ceramic/porcelain Tiles Adhesive in Ghana
Chemical analysis of leachate and gases from Ogbolo No. 1 landfill and their ramification on the environment 
Extraction , Characterisation and use of tamarind oil in liquid soap production
The use of water melon seed as fortifier in some Ghanaian foods
Plant design for the production of isooctane from isooctene
Plant design for the production of phosphoric acid
Plant design for the production of Ethylenediaminetetraacetic acid(EDTA)