Dr. George Obeng, Director
The Technology Consultancy Centre (TCC)of the College of Engineering was established in 1972 with a mandate to work in collaboration with KNUST's academic departments to research, develop and transfer sustainable technologies to support small and medium-scale industries in Ghana.



To realise this objective, the TCC operates the following programme units:
• Suame intermediate Technology and transfer Unit (ITTU)
• Food, Agriculture and Natural Resources Development (FAND) Unit
• Applied Industrial ceramics and Rural Enterprise Development (AIC-RED) Unit
• Entrepreneurship Development Unit
• Consultancy
The TCC's main activities are field-based research, development and transfer of sustainable technologies aimed at enterprise development and wealth creation. The TCCs units are a unique resource for transitioning research from university laboratories into the field. The TCC has provided hands-on training to over 6000 entrepreneurs, students and apprentices in Ghana, Malawi, Togo, Sierra Leone, Cote D'Ivoire and Cameroon.
The Centre has both national and international experience working with World Bank/Government of Malawi, FAO, European Commission, CIDA, UNESCO, DFID, GIZ, USAID, MIT-USA, University of Pennsylvania, and Olin College, USA. For the greater part of its 42 years of existence, the TCC has sought to fulfill its role through the development and transfer of relevant expertise and equipment, a process which has led to the proliferation of small engineering enterprises in Kumasi and Ghana. To demonstrate the commercial viability of setting up and running of small engineering enterprises, in 1980 the TCC established the Intermediate Technology Transfer Unit (ITTU), which is strategically located in the midst of the Kumasi Suame Magazine, Africa's largest light engineering manufacturing cluster of about 80,000 entrepreneurs.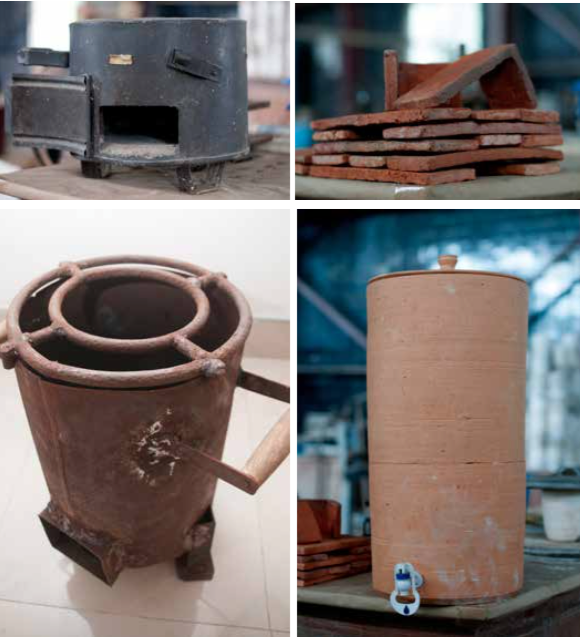 RESEARCH AND DEVELOPMENT
Suame Intermediate Technology Transfer Unit (ITTU)
The ITTU continues to provide technological expertise and equipment through prototyping and product development. The ITTU also provides workshop facilities for KNUST students to apply classroom learning in the workshop during their final year 
project work. During the academic year 2013/2014, the ITTU carried out the following activities:
Installation of complete Jatropha Energy Facility (decorticator, oil expeller, diesel engines) for processing of Jatropha oil, training as well as enterprise development in Jatropha-based products at Kparigu in West Mamprusi district, Northern region.
Production of three (3) Jatropha decorticators for de-husking Jatropha fruits into seeds. These machines have all been tested and will be used for training in the extraction of oil and production of Jatropha-based products in 3 rural communities of Nasia, Wungu and Yama, all in West Mamprusi District, Northern Region of Ghana.
Food Agriculture and Natural Resource Development (FAND) Unit
In collaboration with students and faculty members of the Department of Chemistry, Department of Agricultural Engineering and Department of Agricultural Economics and Extension the FAND Unit continued working in various research areas including:
Oil extraction
Bio-charring unit
Briquettes development
Study of bee keeping technology at the 10-hive apiary (bee-farm).
Applied Industrial Ceramics and Rural Enterprise Development (AIC-RED) Unit
Researchers at the AIC-RED Unit carried out research and development activities on household ceramic water filters, facing and insulating bricks production, bio-briquettes and bio-char for clean smokeless stoves, plastic to fuel (PTF) research and clean energy development technologies for high efficiency cook stoves. Other activities were the transfer of improved institutional cookstoves. The unit is developing an idea to use the Vice Chancellor's impact programme to promote the improved institutional cookstoves in some communities. The 10-20kw biomass gasification power plant is in operation and has four (4) KNUST students working on it.
NATIONAL COLLABORATIONS
TCC-Energy Commission Stove Testing and Expertise Centre at KNUST
During the period under review, the TCC won a competitive bid organized by the Energy Commission of Ghana to establish a Testing and Expertise Centre for improved stoves and heat retention devices at KNUST. The US$ 90,000 facility which includes 
supply of equipment, installation and training is sponsored by UNDP.
The Testing and Expertise Centre will carry out efficiency, performance, technical and emission level tests on cookstoves produced locally or imported into Ghana. This will facilitate the successful and effective implementation of standards. With standards and labels in place, cookstoves will be labelled as "improved" to differentiate them from ordinary cookstoves.
The Testing and Expertise Centre will also create an avenue for Research and Date (R&D) to facilitate continuous technological improvement and innovation in the design and manufacture of improved cookstoves in Ghana and Africa.
Community Assessment Work at Chirano Goldmine Catchment Communities.
As a result of an EPA contract won by TCC to provide consultancy services on community needs assessment work, a final report was presented on November 19, 2013 at Coconut Grove Regency Hotel in Accra. The stakeholders' workshop was attended by representatives of Bibiani-Anhwiaso-Bekwai and SefwiWiawso District Assemblies, Traditional Council and Community Chiefs, EPA, National Liaison Group (NLG), Forestry Commission, Ghana Chamber of Commerce etc. The Terms of Reference for the consultancy services specified a major challenge facing the NLG in terms of apportionment and utilisation of funds accrued for future developmental projects in the Chirano Goldmine catchment communities in Western Region.
A total of 20 communities were surveyed for needs prioritisation and apportionment.

To determine the criteria for apportionment, the team of experts carried out risk assessment, which was based on factors including social, economic, health, environmental, bird's flight distance and population.

A 130-page report was presented to the EPA in Accra at the end of the consultancy assignment.

TCC- Netherlands Development Organization (SNV) Biomass Gasification Development

The Netherlands Development Organization (SNV), in partnership with the TCC, KNUST has constructed a 10kW gasification plant to produce electricity from charcoal. The gasification technology is the first of its kind in Sub-Saharan Africa. It was built from readily available materials such as cement, sand, iron rods and chicken wires (Ferro-cement). A key objective of the project is to create interest in the gasification technology which was transferred to Ghana by Biomass Technology Group (BTG) of The Netherlands. It is expected that Masters and Doctoral students of KNUST will  further develop the technology while private sector practitioners will develop business interest in it.

INTERNATIONAL COLLABORATIONS Ghana Jatropha Research Project (GHAJA)

In collaboration with the Nucleo Ricerca Desertification (NRD), University of Sassari, Italy, the TCC is working with Savanah Agriculture Research Institute (SARI), Ministry of Food and Agriculture (MOFA), Tamale and New Energy, Tamale, on an EU eligible funding of €169,000 for TCC action in a project titled - Use of Jatropha plant to improve sustainable renewable energy development and create income-generating activities: an integrated approach to ensure sustainable livelihood conditions and mitigate land degradation effects in rural areas of Ghana. This project will end in December 2014. The TCCs main activities are design and manufacture of Jatropha decorticator, expeller; study of Jatropha-based products with focus on extraction methods, quality improvements, and alternative uses and market analysis and training. Among the products so far delivered among:

Development of four (4) Jatropha decorticators for processing of Jatropha fruits into seeds and technical design;
Importation of four (4) oil expellers, diesel engines and accessories
Installation and field testing of one (1) oil expeller, two (2) diesel engines and accessories for setting up energy facility at Kparigu
Submission of 19 quarterly reports with data.
Publication of training manual on operation, maintenance and installation of Jatropha equipment.
TCC-MIT International Development Innovation Network (IDIN) Project
The International Development Innovation Network (IDIN) programme is a 5 year USAID funded cooperative agreement with the following goal "To create and build a global network of change makers that enables the design, development and dissemination of innovations that address key development challenges associated with poverty, while building capacity in communities for local innovation and creative problem-solving". IDIN is structured as a consortium of universities including MIT, USA; Olin College of Engineering, USA; Colorado State University, USA; University of California-Davis, USA; University of São Paulo, Brazil; and TCC, KNUST, Ghana. The total project grant is about US$ 15 million with varying USAID support and institutional
cost sharing. In implementing the programme, TCC will set up Innovation Centres at the ITTU and a rural community in Ghana. Furthermore, undergraduate and graduate students of cognate departments of KNUST will be engaged and financially supported in innovative technology development and entrepreneurship. IDIN has achieved the following:
Supported final year projects of one (1) female post-graduate student and three (3) undergraduate students of Department of Agricultural Engineering, KNUST with IDIN funds to undertake research projects that will improve the lives and livelihoods of people living in poverty.
IDIN-MIT had provided US$8100 to support the Ghana Engineering Students Association (GESA) and Creativity Group all of the College of Engineering, to organise Engineering Students Competition in September 2014.
TCC-University of Pennsylvania (UPENN) International Development Summer Institute Africa Program (IDSI-AP)
In collaboration with Penn-Engineering and the Africa Center of University of Pennsylvania (PENN), the TCC co-hosted for the fourth (4th) time the International Development Summer Institute (IDSI) class of 2013 from May 13 to June 9, 2013. In this programme, Seven (7) KNUST undergraduate students (5 females and 2 males) were competitively selected and given stipends to join 14 UPENN undergraduate students.
Since its inception about 30 KNUST students have been provided with the opportunity to have applied classroom learning and cross-cultural experience in the field of International Development for 4 weeks on KNUST campus.